Notes on Sixth-Generation iPod Nano: Teardown, Video Playback Hints, Photo Slideshows, Voice Memos
After the flurry of news yesterday about the iPod touch, we're now turning our attention to the new sixth-generation iPod nano, which has seen a number of minor tidbits revealed since it began making its way into the hands of consumers.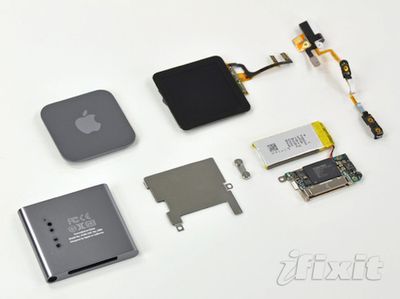 - iFixit has completed the trifecta with a
teardown
of the new iPod nano, following up on its
iPod touch
and
iPod shuffle
teardowns. The iPod nano offers a similar layout to the iPod shuffle, but packs in a battery carrying over twice the capacity of the iPod shuffle's, a necessity for powering the iPod nano's screen.
The teardown also looks at the iPod nano's 1.54-inch, 240 x 240 pixel display, which offers a pixel density of a hefty 220 pixels per inch, not quite as high as the "Retina" display found in the iPhone 4 and fourth-generation iPod touch, but quite respectable. The report also notes that the "multi-touch" screen fails to deliver true multi-touch functionality in that it supports only two points of contact, with the only feature utilizing that class of touch event being the display rotation. Sources have indicated, however, that Apple also planned to offer pinch-to-zoom on the iPod nano, but the feature is not present in the shipping device.
- TUAW reports that while the iPod nano supports photo slideshows, an internal settings file also contains hints of potential video playback capabilities, with entries for TV captions, subtitles, and alternate audio.
- The aforementioned photo slideshows can be pushed to a TV using Apple's cable kits for component or composite connections.
- The new iPod nano can record voice memos when used with Apple's earphones containing remote and mic capabilities, sold separately.