Fourth-Generation iPod Shuffle Teardown Unsurprisingly Reveals Tiny Components
Earlier today, we posted some photos of the new fourth-generation iPod shuffle, showing off the unboxing and some comparisons to other iPod models.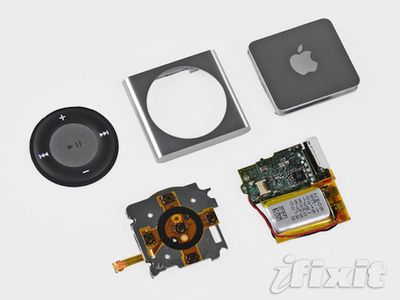 Unsurprisingly, iFixit is close behind with a
detailed teardown
of the diminutive music player. It took a half hour of prying and heat application to open the device's case, but they were finally able to gain access to its internals. Among the interesting items of note:
- With the difficult-to-open case, a battery soldered to the logic board, and tiny connectors, the new iPod shuffle will prove to be quite difficult to repair. And with a selling price of only $49, the device will most likely be considered disposable by most consumers should it break.
- The tiny battery offers only 0.19 watt-hours of power, but given the lack of a display, that's enough to offer up to 15 hours of music playback.
- The interior of the device basically consists of the logic board and battery sitting behind the navigation control buttons.