Fourth-Generation iPod Touch Offers Only 256 MB of RAM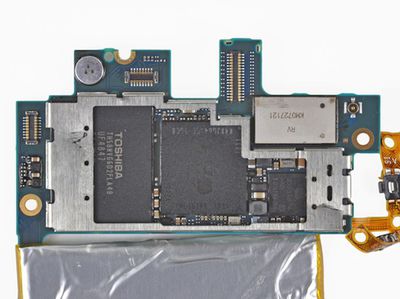 One of the key pieces of information coming out of iFixit's fourth-generation iPod touch
teardown
is that that the device carries only 256 MB of RAM, the same as the iPhone 3GS and iPad but less than the
512 MB
found in the iPhone 4. iFixit's Kyle Wiens has confirmed the new iPod touch's RAM to us.
The key marking of interest on the A4 processor package is K4X2G643GE. This is identical to the marking found on the iPad processor, but different from the iPhone 4 processor. The iPad has 256 MB RAM, while the iPhone 4 features 512 MB. Unfortunately, this means that like the iPad, the new iPod Touch includes only 256 MB of RAM.
As noted by John Gruber, the reduced RAM compared to the iPhone 4 is one of a number of ways Apple has been able to cut costs and to keep the iPod touch at reasonable price points. Without carrier subsidies, the iPhone 4 hardware would be priced at nearly double that of the "equivalent" iPod touch models and thus Apple has had to make some decisions about how to maintain its pricing for the iPod touch line. Among other differences for the iPod touch: a significantly lower-resolution rear camera than the iPhone 4, a lack of in-plane switching (IPS) technology for the display despite the "Retina" resolution, and a lack of GPS.