Apple Releases iOS 4.1 for iPhone and iPod Touch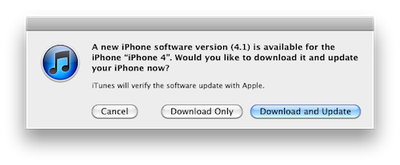 Right on schedule
, Apple has released iOS 4.1 for the iPhone and iPod touch. The update, known as Build 8B117 and available for the iPhone 3G, iPhone 3GS, iPhone 4, and second- and third-generation iPod touch models, brings several new features and fixes.

As
detailed
on Apple's site, iOS 4.1 enables the company's
Game Center
social gaming network (for all iOS 4-compatible devices except iPhone 3G), support for High Dynamic Range (HDR) photos on iPhone 4, and HD video uploading to YouTube and MobileMe for iPhone 4.
The update has also been touted as addressing several high-profile bugs, including proximity sensor issues, performance issues on the iPhone 3G, and Bluetooth problems.
Apple's new fourth-generation iPod touch is shipping with iOS 4.1 already installed. That device has started appearing in stores and on customers' doorsteps today.