Liquidmetal's Manufacturing Process Promises Rapid, Low-Cost Fabrication
Earlier this month, it was revealed that Apple had acquired the rights to use technology owned by Liquidmetal that would allow the company to build its products out of metal alloys carrying high strength and corrosion-resistance that can also be easily cast into any number of forms.
Cult of Mac, which reported last week that the iPhone 3G's SIM card removal tool was made out of the technology as a test of Liquidmetal's capabilities, now takes a look at some of the company's manufacturing capabilities.
Apple will soon start experimenting with a new prototype injection molding machine, says Drew Merkel, who is perhaps the most knowledgeable third-party expert on Liquidmetal Technologies. It may allow Apple to make advanced iPhone antennas and seamless gadget cases with holographic logos cast right into the metal.
"This is the most advanced injection-molding machine ever made," Merkel says. "It is state-of-the-art."
While only a single prototype of the machine used by Liquidmetal is in existence and currently in use in Korea, Apple is obviously expected to order more of the machines to ramp up production for any products requiring the technology.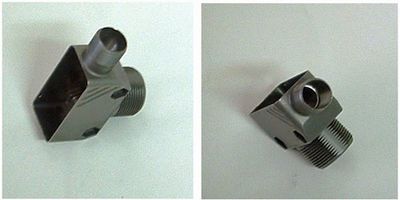 Sample part cast in a single step with Liquidmetal's injection molding machine
As an example of what the injection molding machine can do with Liquidmetal's alloys, the report points to a small metal part used in the aerospace industry, which can be fabricated in a single step with Liquidmetal's technology as opposed to the numerous steps required in a traditional manufacturing process.
"The cost savings are tremendous," Merkel said. "This is truly a fantastic representation of the complex design which can be fabricated and ready to go in minutes."
The report also notes that Liquidmetal has been making prototypes for Apple "for a long time", hoping to catch the company's eye and strike a deal. Merkel, a former steel and plastics industry executive and major investor in Liquidmetal, notes that the company's technology must have been extremely enticing to Apple for it to pursue a deal with Liquidmetal. Merkel calls the company "flaky" and "broke for years", as it has struggled to meet its payroll obligations while producing prototypes free-of-charge in attempts to land major deals with other companies.