Apple Patent Application on Detecting 'Unauthorized' iOS Device Usage Causes Controversy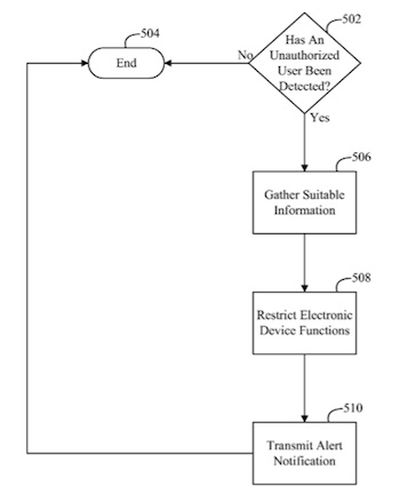 An Apple
patent application
published for the first time last week has been generating some discussion and controversy over exactly what the company intends to or could do with methods to identify "unauthorized" users of iOS devices.
The patent application describes how certain activities performed on a device such as an iPhone could be indicative of "suspicious behavior" that could reveal unauthorized usage of the device. In particular, Apple describes how voice, facial, or heartbeat recognition could be used to confirm whether a user is authorized to have access to a given device. Upon detection of an unauthorized user, the system could limit access to sensitive data stored on the device while working to gather information (photos, voice recording, location, screenshots) on the user in order to determine his or her identity.
Some observers have, however, pointed to another set of methods for unauthorized user detection that could in theory be employed by Apple to exert control over legitimate users' activity on the device. Specifically, Apple suggests that such actions as jailbreaking, unlocking, or SIM card removal could be used to flag users as unauthorized.
Ignoring the possibility that a false positive in Apple's proposed theft protection might activate the spy cam while the user is in the bath, or in the middle of some other intimate moment, this technology seems Orwellian for another reason: It gives Steve jobs and Co. the means to retaliate when iPhones aren't being used in ways Cupertino doesn't expressly permit.
But remember, it's for your own good.
Others are urging caution over what could be considered overreactions, claiming that Apple is perfectly clear in its intentions for the features.
Just because Apple could shut down your iPhone if it's "jailbroken" doesn't mean Apple is trying to seize control of your digital life. In fact, if you want to keep control of it, you might actually want Apple to step in.
. . .it's clear what Apple is really doing is scrambling to reassure those running corporate wireless programs - or just paying bills for the household wireless devices - that they're going to be able to secure all those iPhones, iPads, and other gizmos if they get lost or stolen.
Another overlooked factor is Apple's history of inventions disclosed in patent applications, many of which have never made it into shipping products. While Apple does routinely take steps to inconvenience users attempting to perform actions such as jailbreaking of which it does not approve, there are obviously any number of other tactics it could employ to step up its efforts. And while Apple could easily employ more invasive methods, it has shown no apparent interest in doing so, and would obviously face a tremendous public backlash should it do so.
Regardless, this newly-published patent application filed in February 2009 seems to be clearly focused on protecting and finding lost or stolen iOS devices and simply offering up jailbreaking and unlocking as part of a possible suite of clues that together could help assess whether a user is authorized to access the device or not.