Apple Opens Door to Free iPad Content for Print Magazine Subscribers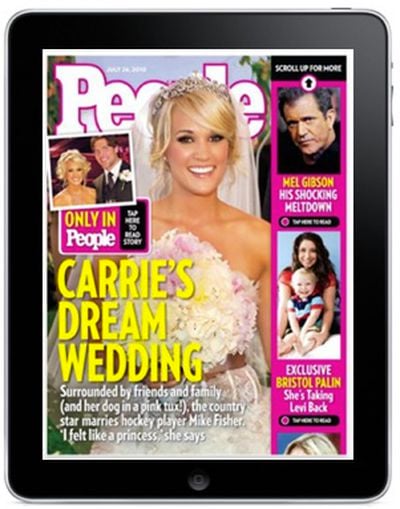 Fortune reports
that Apple and Time Inc. have come to an agreement to allow the publisher to offer subscribers to its print magazines free access to content through their corresponding iPad applications. The agreement, which is marked by the debut of
PEOPLE Magazine
under the new structure, sees subscribers to the print edition receiving free access while non-subscribers can purchase individual issues for $3.99 each.
Until now, the iPad versions of People, Time, Sports Illustrated and Fortune have cost the same as the newsstand price -- $3.99 for each issue of People, $4.99 to $5.99 each for the rest -- even if you were are already paying to get the paper edition in the mail.
That changed with this week's People iPad app, which is, for the first time, free to People subscribers. Fortune and the rest of Time Inc.'s (TWX) flagship magazines are expected to adopt the same pricing structure within the next 30 days.
Additional details on the PEOPLE Magazine application and pricing policies are available through the magazine's site.
Late last month, we noted that Apple and magazine publishers had been at an impasse over subscription pricing, and while some progress certainly remains to be made in the area of offering true multi-issue subscriptions for digital content, allowing print subscribers to receive free digital editions marks an important first step.