Apple Provides Sneak Peek Of Media Center (iTv) [Photos]
In a rare move, Apple provided a sneak peek of the long rumored Apple media center. Currently without a final product name, it has been codenamed iTV and has the apperance of a flattened Mac mini.
Providing various audio and video outputs, it is intended to be connected to a TV, communicating wirelessly with your Mac or PC and displaying a Front Row like interface for the content on your computer.
Key features:
Built-in power supply (no power brick)
USB, Ethernet and 802.11 wireless connectivity
HDMI, optical audio, component video and RCA (phono) audio outputs
Works with the Apple Remote
The 'iTV' is to be available in Q1 2007, priced at $299.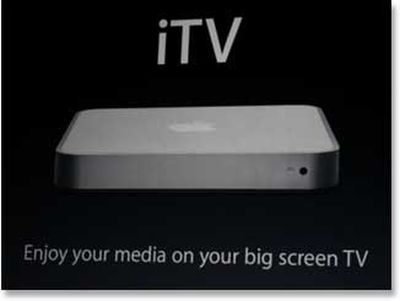 Update: Photos of the prototype unit.