PR Experts Suggest iPhone 4 Recall 'Inevitable' as Antenna Issue Snowballs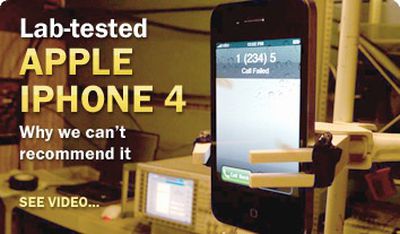 Cult of Mac spoke
with several public relations experts who suggest that a recall of Apple's iPhone 4 is "inevitable" given growing criticism over the device's antenna issues that is spilling over from blog communities into the mainstream media. The PR crisis grew substantially yesterday when the widely-read
Consumer Reports
review and recommendation magazine
failed to recommend
the iPhone 4 to potential customers despite the device otherwise
topping the rankings
of smartphones.
"Apple will be forced to do a recall of this product," said Professor Matthew Seeger, an expert in crisis communication. "It's critically important. The brand image is the most important thing Apple has. This is potentially devastating."
Crisis communication experts contacted by CultofMac.com, including Chris Lehane, former Clinton White House "Master of Disaster," agree: the iPhone 4 reception issue presents a Toyota-style PR crisis for Apple, and the company must respond with a more meaningful fix than a software patch.
Apple issued a press release earlier this month claiming that the problem is merely a software issue that causes the onscreen signal strength display to overstate the actual signal strength, also noting that some attenuation of signal while the device is being held is normal. But Consumer Reports and others have determined through their own testing that the iPhone 4 does in fact suffer more significant signal attenuation than other devices, an issue that would not be remedied by a simple software fix to signal strength displays.
Apple has consequently been taking criticism for not coming clean about the issue or tackling these reports of demonstrable signal laws head-on. In fact, Apple has been going so far as to delete threads in its support forums pointing to the Consumer Reports article rather than allowing an open discussion of the topic or addressing the claims. Meanwhile, some observers hope that Apple's seemingly extended timeframe for pushing out the promised software update to address the signal strength display issue could indicate that the company is quietly working on more substantial software changes to address the issue in some way if at all possible.