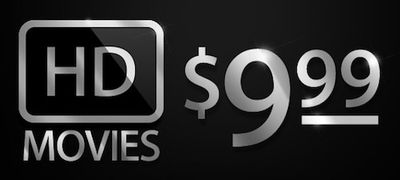 Macworld notes
that Apple has launched a new bargain bin of sorts for HD movie sales in its U.S. iTunes Store, featuring 30 titles in a dedicated "HD Movies $9.99" section [
iTunes Store
] of the store, although a handful of the films are priced even lower.
No, Apple has not (yet) managed to finish dragging the studios into the 21st century en masse. But it has introduced a $10 HD movies section and stocked it with 30 films including 3:10 to Yuma, American Psycho, and The Doors. Of course, Witless Protection and Disaster Movie also made this bargain-HD-bin debut, but I guess Apple needs to take what it can get for now.
Apple launched HD movie sales in the U.S. iTunes Store in March 2009, setting a standard price point of $19.99 for most titles, although some have been priced lower. A dedicated $9.99 section marks a new pricing low for anything more than a handful of titles, however, and users can obviously hope that the discount offerings will expand over time.