Apple Announces Release of HD Movie Sales and Rentals via iTunes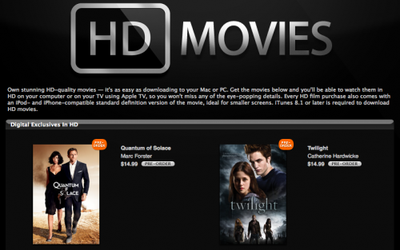 Apple today
announced
that they are now offering high-definition movie sales and rentals through the iTunes Store.
Starting today, movie fans can purchase box office blockbusters for download in HD for $19.99 from iTunes, and films will be available as iTunes Movie Rentals in HD for $4.99 within 30 days after release. Customers can enjoy these films in HD on their Mac or PC and on their widescreen TV with Apple TV, as well as in standard definition on their iPhone or iPod with video.
A dedicated HD Movies page has been added to the iTunes Store [iTunes] to highlight the new content. Pre-orders for the James Bond movie "Quantum of Solace" and the thriller "Twilight" are currently being featured, with additional movies already available.
Previously, Apple had only offered high-definition movie rentals through the Apple TV in January 2008 and later added support for high-definition TV shows via iTunes in September 2008.