Long Lines Persist for iPhone 4, Second Round of Pre-Orders Shipping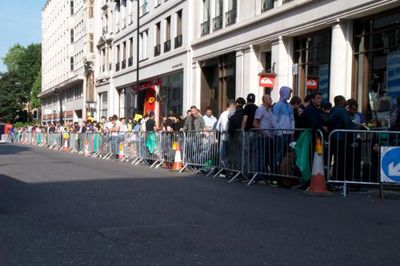 Friday morning at Regent Street, London. Photo by
Rob Smith
Long lines persist for the iPhone 4 a full day after its official launch day. The photo above was taken at the Regent Street Apple Store in London this morning.
Meanwhile, we've heard that the second round of iPhone pre-orders have begun shipping ahead of schedule. Customers who ordered the iPhone 4 from Apple after the initial batch sold out were originally quoted a July 2nd ship date, but some of those customers have now started receiving shipping notifications.
The continued strong demand bolsters analysts' recent estimates of blockbuster opening weekend sales. Piper Jaffray's Gene Munster estimated yesterday that Apple will move 1.0-1.5 million iPhone over the first three days of availability. Oppenheimer's Yair Reiner followed up with a more bullish claim of as many as 1.5 million iPhones sold on the first day alone, presumably including those that shipped to customers a day or two early.
Apple reported after last year's launch weekend for the iPhone 3GS that it had sold "over one million" units in the first three days of availability. Given claims of substantially increased pre-order increase over last year and reports of Apple's longest lines ever for launch day sales, it certainly seems likely that the company will eclipse last year's performance.