Apple Rolls Out Dedicated FaceTime Support and Testing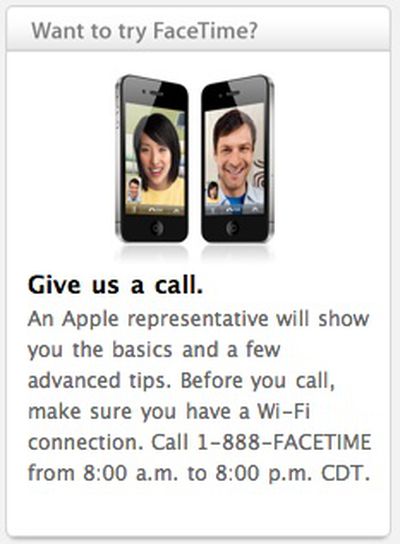 One of the key features of iPhone 4 is
FaceTime
, Apple's new video calling feature. Unfortunately, the feature is currently limited to iPhone 4-to-iPhone 4 calls, making it difficult for some people to try out the new feature if they don't know any other users with the device.
Apple has addressed the issue with a new FaceTime support and testing hotline at 1-888-FACETIME, mentioned in an email sent to some iPhone 4 customers by Apple. Callers to the FaceTime hotline will be asked a few questions about their phone and Wi-Fi situation before being transferred to a FaceTime session with an Apple representative. Callers can then receive information about the feature, ask questions, and test things out with the Apple representative on the other side.
The FaceTime hotline is currently available between the hours of 8:00 AM and 8:00 PM Central Time.