Apple Announces FaceTime for iPhone 4 Video Calls
The iPhone 4 was officially announced at today's WWDC keynote event and Steve Jobs reserved the "one more thing" announcement at the end of the event to talk more about its video calling capabilities.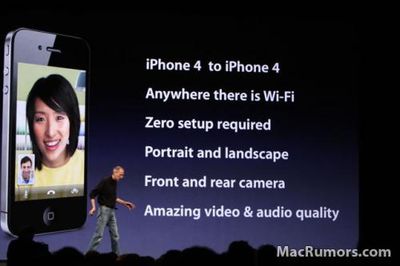 Video calling will require both parties to be using an iPhone 4. Video calls can be done with both the front and rear-facing cameras on the new device and requires Wi-Fi to work. Apple's protocol for video calling is called FaceTime and will apparently not use cellular data networks at all, thus the requirement for a Wi-Fi connection.
While describing the feature and its restriction to Wi-Fi only in 2010, Jobs said that they "need to work a little bit with carriers," presumably to make the feature available with cellular data connections in the future.