Steve Jobs Describes iPhone 4 Signal Strength as a 'Non Issue'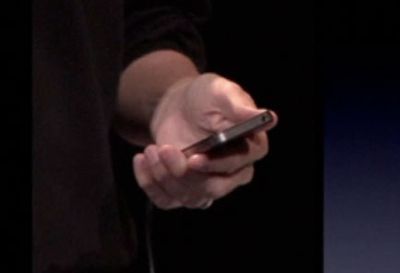 Steve Jobs holding iPhone 4 in problematic way during WWDC keynote
MacRumors forum user samcraig emailed Steve Jobs about the
low signal issue
while holding the new iPhone 4 in a specific way. The potential issue has been generating a lot of discussion. Samcraig emailed Steve Jobs:
Question - What's going to be done about the signal dropping issue. Is it software or hardware?
To which, Jobs replied with a typically short response:
Non issue. Just avoid holding it in that way.
In a followup email, Jobs then expanded with this explanation:
Gripping any phone will result in some attenuation of its antenna performance, with certain places being worse than others depending on the placement of the antennas. This is a fact of life for every wireless phone. If you ever experience this on your iPhone 4, avoid gripping it in the lower left corner in a way that covers both sides of the black strip in the metal band, or simply use one of many available cases.
Steve Jobs has been known to respond to emails and we were able to log into Samcraig's email account to verify the authenticity of the emails, so we believe these are real.
Update: This has been confirmed as an official statement from Apple.