Best Buy Expects 'Minimal Inventory' of iPhone 4 on Launch Day
iClarified is mirroring the entire Best Buy iPhone 4 launch plan which was originally leaked to HowardForums. The document focuses on the policies surrounding Best Buy's iPhone 4 launch and reveals some interest notes for would-be customers. Here's the most interesting piece: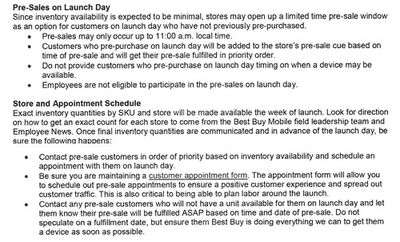 Seems Best Buy is expecting "minimal inventory" of iPhone 4s on launch and isn't even sure they'll be able to fulfill orders to all those who pre-ordered. Those who did pre-order at Best Buy should expect a phone call to set up an appointment during the day to purchase your iPhone 4. Best Buy won't know for sure if they will be able to fulfill existing pre-orders until they receive inventory numbers this week.
If you haven't yet pre-ordered, we suspect your best bet for getting an iPhone 4 on launch day is to line-up early at an Apple Store. Apple Stores are expected to have an allotment of walk-in inventory outside the existing pre-orders. Meetups are being organized in our forums.