Mac Mini Mid 2010 Teardown Photos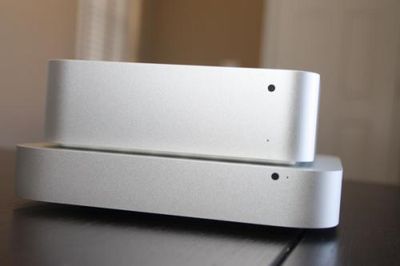 Old Mac mini on top of new Mac mini
Macminicolo.net has
posted
a teardown of the new Mac Mini that was released on Tuesday.
Three notes from the tear down: 1) The screws are tiny. In other words, most people won't be able to do this with what they have in the garage. 2) The CPU was really in there tight. I tried to pry it off with no luck. 3) This Mac mini is really, really well built. It feels like less of a brick (like the last one) and more of a laptop without a screen.

Meanwhile, iFixit.com has
also posted
an extensive tear-down guide.

We
covered
the release of the new Mac mini yesterday. It carries a number of enhancements over the existing design including a unibody design, HDMI port, and easily accessible RAM. iFixit's teardown also highlights all-new rubber dampers for isolating the fan screws, helping the Mac mini achieve significant gains toward lowering noise and vibration. Along with a brushless fan, the dampers and other features help the new Mac mini achieve reported sound levels as low as 14 dB at idle, making the diminuitive machine an unobtrusive addition to both computing setups and home theater systems.