FBI Investigating AT&T iPad 3G Security Breach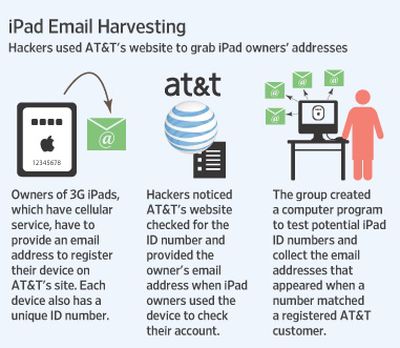 The Wall Street Journal reports
that the U.S. Federal Bureau of Investigation has begun an investigation into the
AT&T security breach
that resulted in the exposure of emails addresses and SIM identifiers for over 100,000 iPad users signed up for 3G access on its network.
"The FBI is aware of these possible computer intrusions and has opened an investigation," said Katherine Schweit, an FBI spokeswoman. Ms. Schweit said the FBI began the investigation Thursday but wouldn't comment on what the bureau is looking at. "It's very early in the investigation," she added.
Any investigation into the incident is likely to look at two factors: how the information was obtained and what was done with it. Escher Auernheimer, a member of the group that exploited the hole in AT&T's website to obtain the information, claims that nothing illegal was done in collecting the information, as access was obtained simply by entering information into a public website.
As for what the group did with the information between the time of its collection and its sharing of the details with Gawker for publication, the group claims that Gawker was the only outside party to receive the information and that the information was only disclosed once the hole had been closed. While the group has taken some criticism for not directly contacting AT&T about the situation, it claims that it "made sure that someone else tipped them off" and waited for AT&T to fix the issue before going public.