WWDC 2010 Pre-Keynote Roundup and Coverage Details [Updated]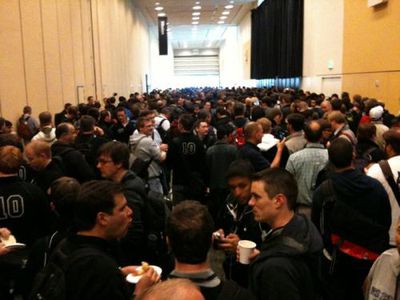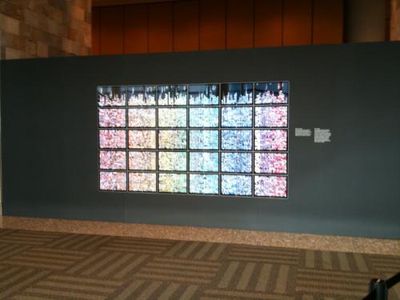 Wall of App Store icons at WWDC
With just under two hours to go before Apple CEO Steve Jobs takes the stage for his keynote address at the company's Worldwide Developers Conference (WWDC) in San Francisco, it's time for us to set the stage with final details on the latest rumors and coverage information.
Coverage
As we noted over the weekend, MacRumors will be offering live text and photo updates from the keynote through MacRumorsLive.com. The main MacRumors.com page will automatically redirect to MacRumorsLive as we get closer to the event, so stay tuned here. We will also be providing Twitter updates through our @MacRumorsLive account.
For those who wish to hold off on all keynote-related coverage and announcements, we've also posted our traditional spoiler-free page and forum thread for people to be notified when Apple posts full video of the event later today.
Rumors
Aside from the widely expected introduction of new iPhone hardware, a number of other possible announcements and introductions are possible. We summarized a number of them late last week, including the obvious iPhone OS 4 details and possible Mac Pro refresh and new 27" display, as well as possible cloud-based iTunes/MobileMe changes, Apple TV revamp, and Mac OS X 10.7, although those appear to be a bit farther off. Since that time, of course, additional last-minute rumors have popped up:
- Supply Shortages Hint at Possible Mac Mini Refresh
- Mac OS X 10.6.4, Safari 5 and Xcode 4 Coming at WWDC
- Apple's 'Magic Trackpad' or 'Magic Slate' Revealed?
- Final 'Get a Mac' Spot to Kick Off WWDC?
Update: Daring Fireball's John Gruber hints that the revamped Apple TV may in fact be making an appearance today.
Update 2: Unconfirmed last-minute claims regarding iPhone OS 4 include printing support, landscape orientation support for the home screen, and an iBooks "subscription service".