With today's introduction of iPhone 4, Apple now finds itself with existing stock of the 16 GB and 32 GB iPhone 3GS models. Consequently, the company has dropped prices on those discontinued models to $149 for the 16 GB model and $199 for the 32 GB model. Prices are valid with a new two-year agreement with AT&T.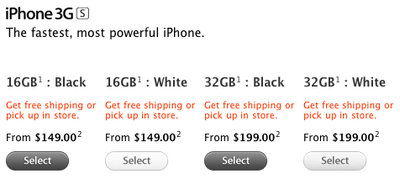 Apple's online stores
ran dry
of the low-end 8 GB iPhone 3G several weeks ago, with AT&T
following suit
late last week.
Apple's clearance prices on iPhone 3GS models may not be the best deal available, however, as Wal-Mart dropped the 16 GB model to $97 late last month. It is not entirely clear what Wal-Mart's plans are for clearing any remaining stock and bringing in the iPhone 4 are now that an official launch announcement has been made.
For its part, Apple will be maintaing its own $99 price point previously held by the 8 GB iPhone 3G by releasing a new iPhone 3GS similarly carrying only 8 GB of storage. While Apple almost certainly could have squeezed in 16 GB of storage at that price point, it elected not to do so, presumably to maintain differentiation from iPhone 4.