iPhone 3G Supplies Begin to Run Dry Ahead of WWDC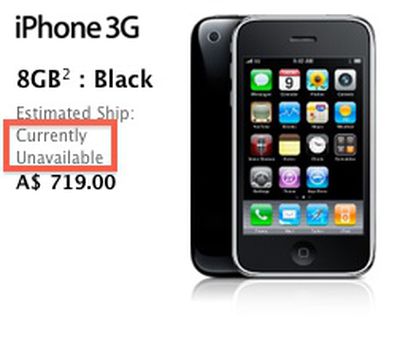 iPhone 3G in Australian online Apple Store
With just two weeks to go until Apple is expected to unveil new iPhone hardware, it appears that supplies of the low-end 8 GB iPhone 3G are beginning to run dry. According to
Boy Genius Report
, Apple has
stopped supplying AT&T stores
with the device, suggesting that the model is being phased out of production.
We've heard that Apple has stopped shipping iPhone 3G 8GB units to AT&T stores and orders are not being placed for the device. Could this mean we might see the iPhone 3GS drop to $99 and make way for a new model?
Meanwhile, several MacRumors readers have noted shortages of the iPhone 3G in other countries. In Australia, where Apple sells contract-free iPhones online at unsubsidized prices, the 8 GB iPhone is listed as "Currently Unavailable". Similarly, customers looking to order iPhone 3G models in the United Kingdom through carrier O2 similarly appear to be having a difficult time, with a drop-down menu on O2's iPhone ordering page showing only new and reconditioned iPhone 3GS options despite the menu's description noting an iPhone 3G option.

O2's iPhone ordering page
While Apple's exact plans for the next line-up of iPhone models are not yet known, many observers, including
analyst Katy Huberty
of Morgan Stanley, have suggested that Apple may follow its existing pattern by introducing new hardware in multiple capacities while sliding the existing low-end iPhone 3GS down to the $99 price point currently occupied by the 8 GB iPhone 3G.
Update: Even Apple's U.S. online store appears to be out of iPhone 3G models, as the "Select" button has been removed from under the model's listing on the ordering page.