Next-Generation iPhone Battery Joins List of Surfacing Parts
Parts for the next-generation iPhone continue to surface as the device's expected introduction at Apple's Worldwide Developers Conference next week approaches. The latest part to make an appearance on Taiwanese site Apple.pro is the device's battery, and while it appears that no additional info can be gleaned from the new images beyond that disclosed in reports based on prototypes that surfaced in the hands of Gizmodo and a Vietnamese mobile phone dealer, it does appear to offer another example of Apple's supply chain leaking out parts for an unreleased product.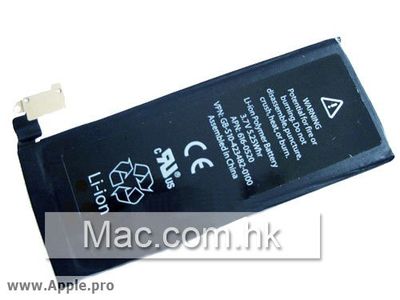 As first disclosed by
Gizmodo
, the new images show that the next-generation iPhone's battery carries a capacity of 5.25 watt-hours, a nearly 16.5% increase from the 4.51 watt-hour battery in the iPhone 3GS. The Vietnamese leaked prototype, however, carried a 5.00 watt-hour battery.

The site has also posted a photo of the forthcoming iPhone's dock connector and cable, which differ somewhat in appearance from the design used in the iPhone 3G and 3GS.