Apple Holding Second, 3GS-Like Next-Generation iPhone in Reserve?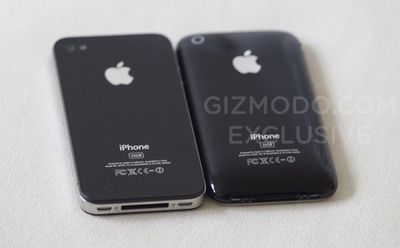 DigiTimes
offers an
interesting Q&A
with one of its research analysts reporting several previously undisclosed details about the development of the fourth-generation iPhone expected to be introduced early next month at Apple's Worldwide Developers Conference. One of the most interesting tidbits included in the report is a claim that Apple had a second next-generation iPhone under development that more closely resembles the iPhone 3GS, a phone which Apple has been keeping in reserve in case unforeseen difficulties with the more significantly redesigned versions seen floating around in prototypes forced Apple to fall back to manufacturing processes with which it is already familiar.
The leaked iPhone 4G had a tag that said "N90," which is the internal development codename for the iPhone 4G, and very few people outside the company knew about it prior to the leak.
On a side note, Apple initiated the iPhone 4G project at the end of 2008. According to our sources, Apple actually has another product codenamed N91 for the project, which offers less change from previous iPhones compared with the N90. It's a parallel product to back up the N90 in case there are major delays due to significant modifications in casing, display resolution, digital camera support and so forth.
In fact, it seems possible that there may even have been a third version of the next-generation iPhone floating around Apple's labs, as details found in the iPhone SDK 3.2 back in February revealed a device, presumed to be an iPhone, carrying an "N89" internal model number. The iPhone 3GS carries internal model number "N88".
The report also claims that a Verizon-compatible iPhone scheduled to be produced by Pegatron instead of Apple's existing iPhone manufacturing partner Foxconn will not enter mass production until at least the second half of this year, if not 2011.
Pegatron will indeed assemble an iPhone, but the manufacturing cooperation is still at the EVT (engineer verification test) stage. There are two more stages - DVT (design verification test) and PVT (process verification test) - before mass production. Though there were reports that shipments for this particular device will begin in the second half, we believe 2011 is more likely.
Finally, the report notes that Apple did investigate the possible use of OLED screens in the next-generation iPhone, but ultimately decided against adopting the technology due to insufficient production capacity, cost, and performance issues.
According to our sources, Apple had spoken with Samsung Mobile Display (SMD) about the possibility for AMOLED panels since the development of the iPhone 3GS, but production capacity remains a big issue. SMD only has the capability to fulfill 50-60% of iPhone orders at the moment even it dedicated all AMOLED capacity to Apple.
DigiTimes has had a spotty record in the past with a number of inaccurate product claims over the years, but does seem to have a better handle on the pulse of Apple's Asian suppliers and manufacturing partners than most other sources.