Internal Model Numbers for Next-Generation iPhone and iPod Touch Reportedly Surface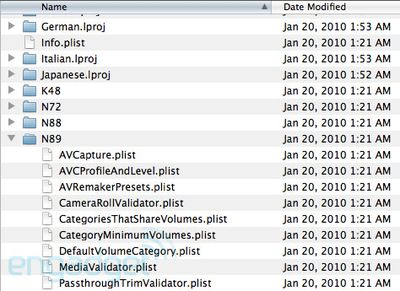 Engadget reports
that an internal model number for Apple's next-generation iPhone ("N89") has apparently surfaced in the the new iPhone SDK 3.2 that was released alongside the introduction of the company's iPad tablet device.
Buried way inside the platform simulator lies a set of folders dedicated to specific models of iPhone OS-ready devices, including the iPhone 3GS, second generation iPod touch, something called the "K48" (yep, the codename we were told was the internal name for the iPad), and... the "N89." Sure, it sounds like a Nokia phone just waiting to happen, but this is -- according to our extremely knowledgeable and trusted sources -- likely the codename of the next iPhone (previous versions were called the M68, N82, and N88).
In addition, a similar entry entitled "N80" has also appeared in Apple's just-released iPhone OS 3.1.3 and reportedly corresponds to the next-generation iPod touch.
Interestingly, Apple's just released firmware (3.1.3) also includes another new model, the "N80," which we're told will most likely be the next version of the iPod touch.
Several previous reports had claimed that the iPad was carrying the internal model number "K48", which appears to have been the case. One of those earlier reports had also claimed, however, that the next-generation iPhone carries internal model number N90 instead of the N89 discovered in the iPhone SDK 3.2.