Analyst: 17% of Verizon Customers Waiting for iPhone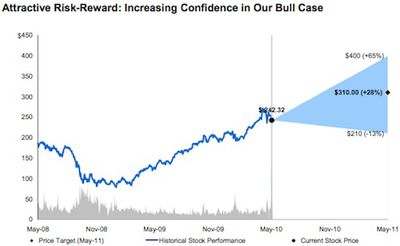 Fortune reports
on a new research note from Morgan Stanley analyst Katy Huberty incorporating survey data suggesting significant upside for the next iPhone upgrade cycle. One of the most interesting pieces of data to come from the survey shows 16.8% of Verizon customers saying that they are "very likely" to purchase an iPhone once it breaks free of AT&T's exclusivity to land on their carrier. Huberty notes that that demand could add 8 million iPhone sales per year once Verizon gains access to the device.
Huberty also raised her target price for Apple from $275 to $310 on the basis of a number of factors.
In a note to clients issued early Monday, Morgan Stanley's Katy Huberty raised her Apple (AAPL) price target to $310 per share (from $275), suggesting that investors continue to underestimate 1) continued iPhone share gains, 2) better-than-expected iPad demand, 3) the growing Chinese market, and 4) increased penetration of the corporate market.
Huberty also increased her prediction of 2011 iPhone sales to 61.5 million, 25% higher than the current consensus among Wall Street analysts. Driving that projection is a surge in the percentage of customers looking to upgrade their current iPhones and expectations of Apple being able to offer a $99 iPhone 3GS as part of the hardware revisions expected next month.
Morgan Stanley's Huberty was famously pessimistic on Apple and the iPhone in recent years, but has come around in recent months with significant boosts to performance predictions for the iPhone and iPad.