Prominent Analysts See iPhone With 'Two or Three-Year Lead' on Mobile Internet Market
Fortune reports on a newly-published research effort from Morgan Stanley which analyzes the mobile Internet industry and in the process points to the iPhone's tremendous early growth and Apple's leadership position in the industry.
Based on past performance, according to Morgan Stanley, Apple is in the "pole position" in the race to dominate mobile Internet computing, which is supposed to be for the 2000s what desktop Internet computing was for the 1990s, personal computing for the 1980s, mini computing for the 1970s, and mainframe computing for the 1960s.
According to Fortune's report, Morgan Stanley analyst Katy Huberty sees the iPhone's massive installed base and application offerings as giving Apple a "two or three-year lead" on the rest of the industry. The iPhone's rapid early growth, which has easily surpassed that of other revolutionary Internet offerings, is seen as evidence of the game-changing nature of the device and the potential for continued leadership throughout the rapidly-evolving industry.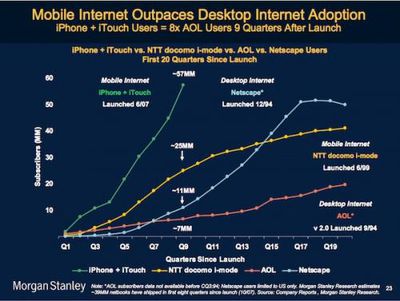 The report also provides data backing up what many have previously observed: that iPhone users' heavy use of data in comparison to that of other smartphone users is revolutionizing the mobile Internet industry and driving innovation and growth in excess of the device's market share. According to the study, the iPhone holds only 17% global smartphone market while claiming 50% of mobile app usage and a full 65% of mobile Web browsing.

While it remains to be seen whether Apple can continue its explosive growth in the face of increasing competition in the mobile Internet space, it seems clear that Apple holds a number of advantages that offer it the opportunity to drive the industry for the foreseeable future.