Analyst Predicts Next-Generation iPhone Will Offer Lower Total Cost of Ownership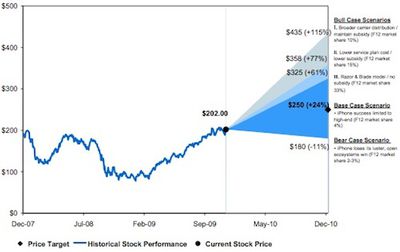 Fortune reports
on a new research note from prominent Morgan Stanley analyst Katy Huberty citing strong sales of Apple's iPad and the potential for increased growth in the iPhone segment from new models she predicts will carry lower total cost of ownership as drivers for Apple's stock price over the next several years.
In a report to clients issued Friday, Morgan Stanley's Katy Huberty offered one of her patented risk-reward snapshots of Apple (AAPL), this one even more optimistic than the last, thanks to what she sees as two new catalysts:
- The iPad launch in March. Huberty is anticipating unit sales of 6 million in calendar 2010, considerably higher than the Street's consensus of 3-4 million
- New iPhones in June. She's expecting new models that offer "both a lower total cost of ownership and new functionality, potentially including gesture-based technology"
Huberty doesn't appear to have elaborated on the basis for her iPhone prediction or exactly what she means by "gesture-based technology", and it is unclear whether such cost of ownership savings would primarily come from the cost of the device itself or the much more significant monthly subscription pricing offered through Apple's partner carriers, as both have been cited as significant barriers to entry for customers.
As part of her analysis, Huberty offers three "bull scenarios" that see Apple's stock pricing surging to between $325 and $435 by fiscal year 2012 depending on the balance between subsidies paid to Apple by carriers and global market share. Huberty also offers tamer scenarios in which Apple's iPhone proves to show slower growth, and projecting stock prices in the $180-$250 range.