Updated MacBook Supports Both Audio and Video Output via Mini DisplayPort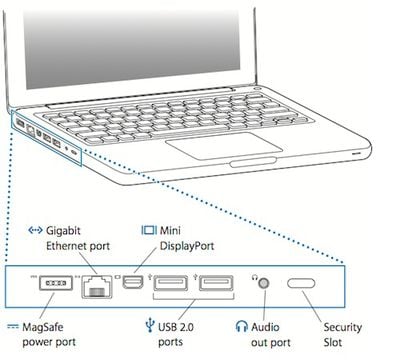 A new
support document
posted today outlining the ports and connectors included on Apple's
updated MacBook
confirms that the new model supports transmission of both audio and video via its Mini DisplayPort output. The feature allows users to run a single cable (when using a compatible Mini DisplayPort-to-HDMI adapter) from their computer to their home theater system or television.
Mini DisplayPort (video out): Connect to an external display, projection device, or TV that uses a DVI, HDMI (audio and video) or VGA connector with a separate adapter.
According to a footnote regarding the HDMI compatibility, users should be sure to use a VESA-compliant adapter to enable the full capabilities.
Apple's current MacBook Pro and iMac models already support this functionality, and it will be reassuring to some potential customers that even Apple's low-end notebook also offers the convenient connectivity.
Apple has yet to update its support document regarding non-compliant Mini DisplayPort-to-HDMI adapters to reflect the new MacBook's capabilities, but will likely do so in the near future.