Apple Updates MacBook Pro Mini DisplayPort Implementation to Support Both Audio and Video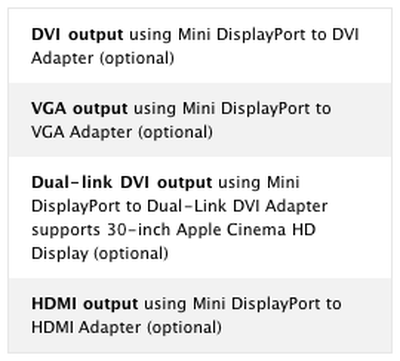 Ars Technica reports
that Apple's new MacBook Pro models
released today
now support transmission of both audio and video via a single Mini DisplayPort output. The news comes following
speculation
that Apple might be preparing to release a Mini DisplayPort-to-HDMI adapter of its own after a reference to such an adapter appeared in the
tech specs
for the new MacBook Pro. According to the latest report, however, Apple has denied that it is planning its own adapter, meaning that users will need to rely upon third-party solutions.
Apple confirmed to Ars that the just-updated MacBook Pros will pass both video and audio signals to an HDTV or receiver when using an miniDP to HDMI adapter. Apple sells one such adapter from Griffin online, though alternative from suppliers such as Monoprice are also available. Apple doesn't have any plans at this time to make its own adapter, contrary to earlier speculation.
Mini DisplayPort-to-HDMI adapters have been around for over a year now, and many MacBook Pro users have used them to connect their notebooks to external displays or televisions. Those users wishing to route audio to the external devices have been required to use a separate cable connected to the computer's audio line out minijack or a combination HDMI cable supporting Mini DisplayPort for video and USB for audio.
HDMI, a popular connector standard for home theater applications, has been rumored to be included on the next-generation Mac mini. That report also indicated that Apple had developed its own Mini DisplayPort-to-HDMI adapter that could handle both audio and video, but today's statement from Apple suggests that the company has no plans, or doesn't wish to reveal plans, to release such a device.
Update: An Apple support document suggests that the company's latest iMacs also offer this functionality when used with compatible Mini DisplayPort-to-HDMI adapters.