More New iPhone OS 4 Features: File Sharing, App Closing
The third beta of iPhone OS 4, released and then pulled yesterday after an installation issue with the development tools was discovered, is now back in Apple's iPhone Dev Center. Following on yesterday's discovery of new iPod controls and a screen orientation lock available through the iPhone OS 4 multitasking interface, Boy Genius Report covered several additional new highlights for the updated operating system.
File Sharing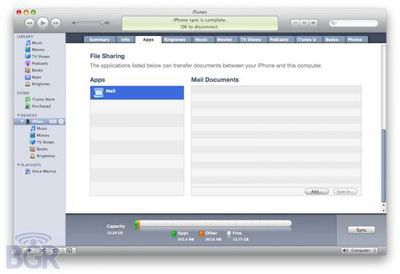 Currently available with iPhone OS 3.2 on the iPad, iPhone OS 4 seems set to bring this feature to the iPhone and iPod touch, allowing users to drag-and-drop files between certain applications and their computers.
Closing Applications

In earlier beta versions of iPhone OS 4, users wishing to close applications in the multitasking tray had to touch and hold each application's icon until an extra "close" icon appeared in the upper left corner of the application's icon and then touch it to close out the application. The awkward and time-consuming process when trying to close multiple applications was a complaint of some users, and Apple has addressed the issue by now allowing users to simply touch and hold one application's icon to activate the close option for all visible applications in the multitasking tray. Once activated, users can quickly close multiple applications.