New Google Chrome Beta Gains Integrated Flash Plug-In, Speed Increases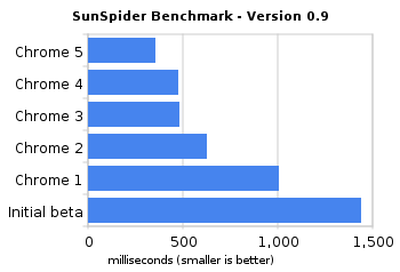 Google today
announced
the release of the official beta versions of Google Chrome 5.0 for Mac, Windows, and Linux. The release brings several new enhancements to the stable testing version of the browser, including an
integrated Flash Player plug-in
and speed increases.
Today's new beta release incorporates one of Chrome's most significant speed and performance increases to date, with 30% and 35% improvement on the V8 and SunSpider benchmarks over the previous beta channel release. In fact, looking back in time, Chrome's performance has improved by as much as 213% and 305% on these two benchmarks since our very first beta.
The new version also includes synchronization of Chrome preferences across computers and new HTML5 features such as geolocation support and file drag-and-drop.
Google is also taking the opportunity to show off Chrome's speed enhancements by deploying a set of "experiments" showing Chrome loading a webpage alongside other "blink-of-an-eye" events, all filmed with a high-speed camera and played back in slow motion. While the "results" of these new speed tests have not yet been released, Google has published a "making of" video showing how they were developed.