3G-Compatible 'ABC Player' for iPad En Route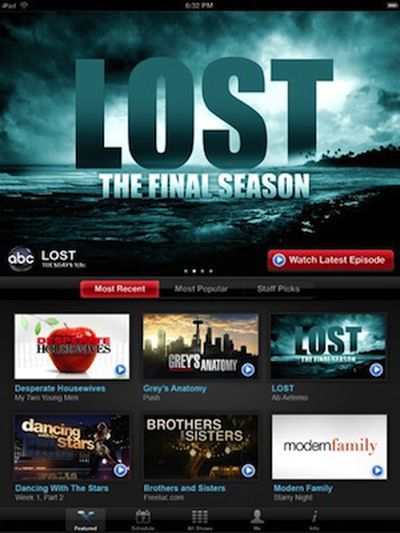 One of the
early notes
on the iPad Wi-Fi + 3G was the observation that several video streaming applications for the iPad such as Netflix and YouTube offer lower-resolution video over 3G than they do over Wi-Fi. Others, such as ABC's popular
ABC Player
application, refused to stream over 3G at all, restricting viewers to Wi-Fi networks only.
Despite some confusion over the reasons for ABC's lack of 3G capability, with AT&T directing questions to Apple and speculation about digital rights or technical considerations being bandied about, AppAdvice noted over the weekend that Apple requires application looking to use HTTP Live Streaming over 3G networks to offer lower quality stream options that can be used when network conditions limit the amount of available bandwidth. ABC apparently chose not to include such functionality it its iPad application, resulting in the Wi-Fi-only limitation.
Fortunately, Silicon Alley Insider now reports that ABC has already submitted a revised version of its iPad application, offering streaming via 3G, to Apple for inclusion in the App Store.
Good news, iPad 3G owners: ABC's iPad app will support 3G video streaming in a new update to the app, according to a person familiar with the matter.
The app has already been submitted to Apple, and pending approval -- which ABC should get -- it will be available for download.
ABC had previously indicated to Silicon Alley Insider that the application would be Wi-Fi-only due to "a variety of business and technical considerations." It appears, however, that ABC has changed its mind and has resolved any issues it had with allowing 3G streaming to the iPad.