An Intrinsity Chip Powers the iPad and Apple's New A4 Processor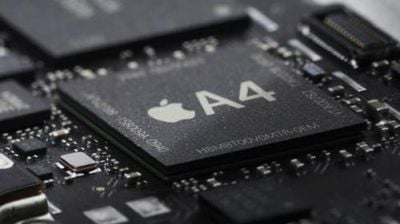 Given the
new confirmation
that Apple has acquired chip design firm Intrinsity, it's interesting to hear that Apple seems to already be using their technology in the iPad under the veil of the "Apple A4" processor. It was previously believed that P.A. Semi might have had a hand in designing the Apple A4 processor that was introduced alongside the iPad, but
an IEEE Spectrum article
disputes that belief.
According to market analyst Will Strauss, there is no doubt "it's only the Intrinsity folks who could have taken [the iPad's ARM Cortex A8] up to a gigahertz. Period." Strauss is referring to an X-ray examination of the A4 processor which revealed it was a Samsung-manufactured single core ARM Cortex A8 processor. According to Strauss, only Intrinsity could have achieved this for Apple. Now with confirmation of an Apple acquisition of the company, it seems almost certain.
In 2009, Intrinsity had announced a 1GHz "Hummingbird" processor which likely shares the same technology. It is believed that P.A. Semi simply didn't have enough time since their original acquisition to produce the technology for Apple.
The use of Intrinsity's Hummingbird processor technology in the iPad was postulated by forum member retroneo back in March. He even pinpointed the Samsung S5PC110 as the likely design basis for the upcoming iPhone processor. The S5PC110 is a similar 1GHz Cortex A8 processor with POWERVR SGX hardware built in.