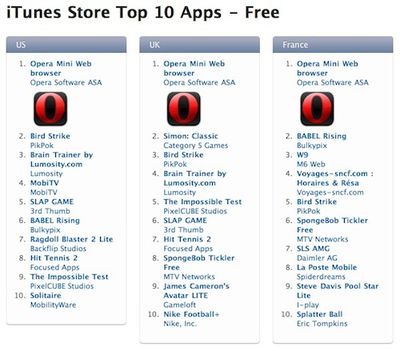 Opera today
announced
that its Opera Mini browser for the iPhone and iPod touch, released
just days ago
, has already surpassed one million downloads and is the #1 downloaded free app in all 22 of Apple's featured country App Stores.
Apple said "Yes", and iPhone users around the world said, "Yes, please". Opera Mini was downloaded more than one million times in its first day of availability in each market. Opera Mini is currently the number one iPhone app in the 22 featured Apple App Stores on their site, as of 8 a.m. CET today.
Opera Mini was submitted to Apple late last month, and some observers had questioned whether the company would approve it for inclusion in the App Store, given its direct competition with Apple's mobile Safari browser that comes pre-installed on all iPhones and iPod touches. Apple has in the past denied applications for "duplicating" the functionality of core iPhone OS applications, although the company appears to have backtracked somewhat on its consideration of that criteria in recent months in the face of criticism over its appearance of limiting competition.