Opera Submits Browser App to Apple, Starts Countdown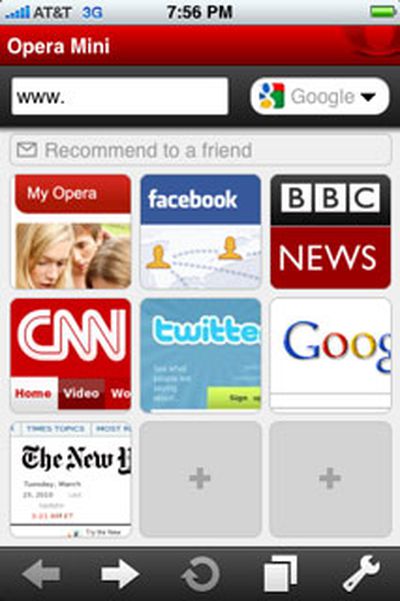 Opera Software today
announced
that its Opera Mini web browser app has been submitted to Apple for approval. Just last month, Opera gave a
demo
of the iPhone version of its popular browser at Mobile World Congress. Today's announcement kicks off with a contest requesting guesses on how long it will take for Apple to approve the app, as well as offering an online count-up timer for the review process.
Opera Mini uses server-side rendering to improve page loading performance, claiming speeds of up to 6 times faster than Apple's Safari on the iPhone:
Due to server-side rendering, Opera Mini compresses data by up to 90 percent before sending it to the phone, resulting in rapid page loading and more Web per MB for the end user.
This server-side processing circumvents Apple's restrictions on executing 3rd-party code within an iPhone app. Pages rendered on Opera's servers are passed to the iPhone as a static page in a compressed format that uses less data to transfer than the original page.
Opera has posted a video showcasing Opera Mini as well as a side-by-side comparison with Safari running on an EDGE network:
To kick off the app's submission, Opera has put up a
timer page
counting the time until Apple approves the app. A
contest
also solicits guesses on how long it will take Apple to approve the app, offering a prize of a new iPhone 3GS for the guess closest to the actual time.