Apple Enhances Email and Enterprise Features in iPhone OS 4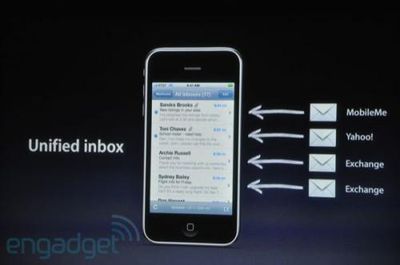 Image courtesy of Engadget
With today's introduction of iPhone OS 4, Apple revealed several new enhancements to its Mail application, as well as a number of improvements tailored to the enterprise community.
One of the most requested email features for the iPhone OS has been a unified inbox that would allow users to check for new messages across all accounts without requiring navigation to each account individually. Apple CEO Steve Jobs indicated last month in an email response to a user that such a feature was in the works, and it did in fact make an appearance at today's event. Users who prefer to view their inboxes individually will also gain access to simpler navigation between inboxes for different accounts.
iPhone OS 4 will also introduce threaded conversations to Mail, making it easier for users to follow multiple discussions. Finally, users will be able to directly open email attachments with compatible apps downloaded from the App Store.
On the enterprise front, Apple will be rolling out a new Mobile Device Management that will allow for simple wireless configuration and management of corporate iPhone OS devices. Enterprise users will also be able to wirelessly distribute apps to their client devices.
Security is another major improvement for the enterprise aspects of iPhone OS 4, with new encryption options and support for forthcoming SSL VPN applications from Juniper and Cisco. Finally, support for multiple Exchange accounts and compatibility with Exchange Server 2010 offers more flexibility for corporate users.