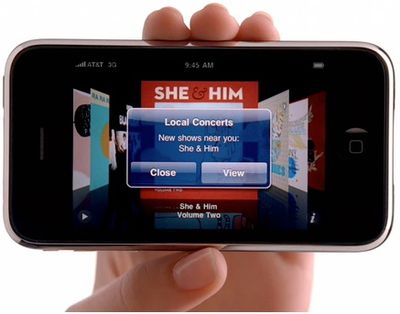 Close on the heels of
last week's release
of its new 'Commute' iPhone commercial, Apple yesterday released yet another ad entitled 'Concert' and posted the commercial to its
iPhone ad gallery
.
Like other recent commercials, 'Concert' demonstrates the iPhone's features in the form of a narrative. In this ad, the narrator uses Shazam to identify a song she had heard, downloads the song from the iTunes Store, and listens to it though the iPod music player functionality. The commercial then shows off the iPhone's push notification system as Local Concerts notifies the narrator of an upcoming local show by the band and allows her to buy tickets to the concert.
Featured applications:
- Shazam (Free)
- Local Concerts (Free)
As with other recent ads, Apple has utilized the narrative-based commercials to feature just a few individual applications while also folding in demonstrations of the iPhone OS and AT&T's network such as iTunes Store and iPod functionality, push notifications, and simultaneous voice and data transmission.