iPad Internal Photos Posted to Federal Communications Commission Site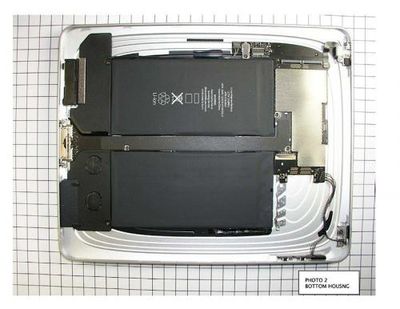 Engadget reports
that the U.S. Federal Communications Commission has
published
a number of photos of Apple's iPad as part of the company's application for approval based on radiation emission requirements. The photos had been
submitted
in mid-March with Apple's application but were kept from public view due to a confidentiality request from Apple.
With the iPad they didn't just bother to test out the radiation and maybe take a little peek for themselves under the covers, but instead disassembled the whole machine on camera. Unfortunately they took it upon themselves to cover over the specific chips, so we'll have to wait for one of those pro bono teardowns to get the full lay of the land, but it's still a unique look at the makeup of this thing.
As the report notes, information that remains confidential has been covered in the images but it is still interesting to see the internal components such as the large, thin battery that is nearly as wide as the device itself.