Apple Highlights 'iPad-Ready' Web Content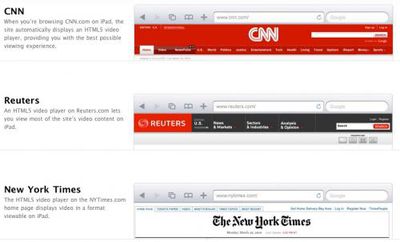 As
noted
by
9 to 5 Mac
, Apple has just posted a
new page
highlighting websites that it considers "iPad-ready" due to their embracing of non-Flash web standards that make them compatible with the forthcoming device.
iPad features Safari, a mobile web browser that supports the latest web standards - including HTML5, CSS3, and JavaScript. Here are just a few of the sites that take advantage of these web standards to deliver content that looks and functions beautifully on iPad.
The page currently features a dozen such major websites, including CNN, The New York Times, Virgin America, and Flickr.
Like the iPhone and iPod touch, the iPad does not support Adobe's Flash technology, which has served as dominant means for displaying rich Web content. Apple has been pushing content providers to utilize other technologies to display such content, claiming that Flash is buggy and insecure while also crippling battery life for mobile devices.