iPad to Launch in Canada (and Other Countries) on April 24th?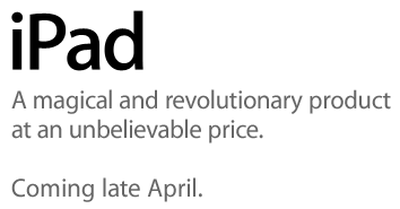 iPad in Canada reports
that it has received information from a source claiming that Apple retail store employees in Canada have been told that the weekend of April 24th is a "black out period", meaning that employees are not permitted to schedule time off during this window. If true, it seems very likely that this might coincide with the launch of the iPad there, as Apple has
announced
a "late April" launch in Canada and other countries.
We were contacted by a source with close ties to the Apple Store that the weekend of April 24th has been marked as a "black out period" for staff. This means no employees are allowed to book this day off. If that's the case, then it would make sense that this indeed would be the launch date for the iPad in Canada. Anytime there's a "black out period" you know it's for something big.
Pre-orders for the iPad began in the United States on March 12th, with Wi-Fi models launching this Saturday and 3G-capable models following later in the month.
The same "late April" timeframe was announced for availability of all models (Wi-Fi and Wi-Fi + 3G) in Australia, Canada, France, Germany, Italy, Japan, Spain, Switzerland and the UK. Consequently, it appears likely that, should Canada see an iPad launch on April 24th, other announced countries could expect launches on the same day.
Pre-orders in the United States began approximately three weeks before the launch of the Wi-Fi iPad models, and so some have speculated that pre-orders for an April 24th international launch could begin as early as this weekend. Apple may choose, however, to wait for the initial rush of iPad sales in the United States before taking pre-orders internationally, gauging sales numbers and stock levels as it seeks to maintain a steady flow of iPads to its sales channels.