Apple Announces April 3rd Launch Date for Wi-Fi iPad in the U.S.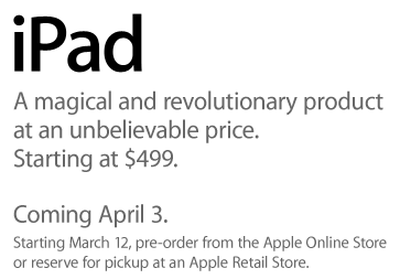 Apple today
announced
that Wi-Fi models of the iPad will go on sale in the United States on Saturday, April 3rd. 3G-capable models in the U.S., as well as both Wi-Fi and 3G models for a number of other countries, will be available in late April. U.S. preorders for all iPad models begin on March 12th.
Apple today announced that its magical and revolutionary iPad will be available in the US on Saturday, April 3, for Wi-Fi models and in late April for Wi-Fi + 3G models. In addition, all models of iPad will be available in Australia, Canada, France, Germany, Italy, Japan, Spain, Switzerland and the UK in late April.
Beginning a week from today, on March 12, US customers can pre-order both Wi-Fi and Wi-Fi + 3G models from Apple's online store (www.apple.com) or reserve a Wi-Fi model to pick up on Saturday, April 3, at an Apple retail store.
Apple also noted that its free iBooks application offering access to the iBookstore will be available in the U.S. App Store on April 3rd, with other countries to follow "later this year".
Apple had initially announced worldwide availability of Wi-Fi models for late March, with 3G-capable models to follow in April. Several reports from analysts this week claimed, however, that Apple's manufacturing partner Foxconn has been experiencing production delays that will result in limited initial availability. Based on the iPad's U.S. launch slipping into April and the delay of international availability of the Wi-Fi models, it appears that those reports may have been correct.