iPad Camera Connection Kit Shipping in Late April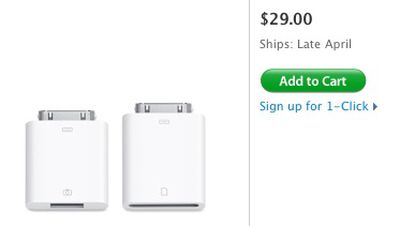 Apple's
iPad Camera Connection Kit
, which offers two adapters to allow users to transfer digital photos directly to their iPad via either USB or SD card, is now listed as shipping in late April.
The kit had been announced by Apple as part of the iPad launch in late January, but did not come available for pre-order earlier this month alongside other iPad accessories. The reason for the delay in making the kit available for order is unknown.
Other iPad accessories are showing a variety of shipping dates for new orders, with the standard dock and VGA adapter scheduled for April 3rd availability and the iPad case shipping in "mid April". The iPad keyboard dock is currently showing "late April" availability, while the power adapter is not shipping until May.