Shipping Windows on iPad Accessories Slipping as Pre-Orders Mount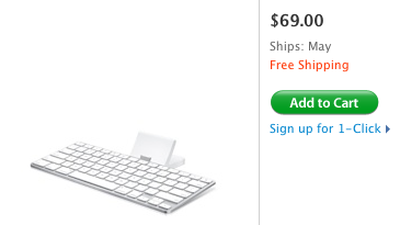 9 to 5 Mac noticed
yesterday that shipping windows for several of Apple's forthcoming iPad accessories have begun to slip well past the device's own April 3rd launch date.
First we noticed the iPad case making a slight shift from April 3rd to Mid-April. Today we notice Apple has delayed the iPad Keyboard Dock. The product was originally set to ship to customers in late-April but now the Apple store has placed the shipping time for sometime in May.
The reason for the delays are currently unknown, although it is reasonable to speculate that high demand may simply be outstripping Apple's supply in the initial rush.
A number of observers have also noted that the iPad Camera Connection Kit, which will offer users the option of USB or SD Card reader connectivity for transferring digital photos and video to their iPads, is yet to be made available for pre-order.

The reason for the lack of pre-order availability on the iPad Camera Connection Kit is similarly unknown, and many users are currently left waiting for news on how soon after the iPad launch they'll be able to easily directly move their photos and videos to their iPads.