Apple Officially Invites Developers to Submit iPad Applications to App Store [Updated]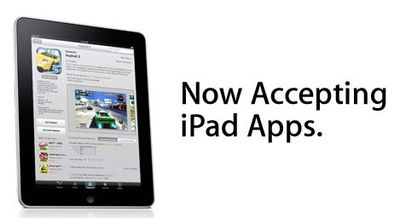 Apple today officially invited developers to begin submitting iPad applications to the App Store for inclusion in the grand opening of the iPad App Store at its launch on April 3rd. In the e-mail sent to developers, Apple invites app submissions for an initial review of their readiness for the iPad.
iPad will begin shipping soon and your opportunity to be part of the grand opening of the iPad App Store starts today. Submit your iPad app now for an initial review by the App Review Team and receive feedback on its readiness for the grand opening.
Submit Your App by March 27.
- Build and test your iPad app using iPhone SDK 3.2 beta 5 available on the iPhone Dev Center. Only iPad apps built with iPhone SDK 3.2 beta 5 will be accepted for this initial review.
- Upload your distribution signed app through iTunes Connect by Saturday, March 27, 5pm PDT.
- The App Review Team will review your app on iPad and email you details about the readiness of your app.
- You will also receive additional information about submitting your app for final review before iPad ships.
- Only apps submitted for the initial review will be considered for the grand opening of the iPad App Store.
Apple has provided iPads to a select set of developers under tight security in order to assist them with preparing their apps for the iPad's launch. The vast majority of developers will, however, have to rely on the iPad simulator included in the iPhone SDK 3.2 for iPad for testing their apps.
Update: 9 to 5 Mac has posted screenshots of the revised iTunes Connect interface, showing separate areas for uploading iPhone/iPod touch and iPad screenshots for display in the App Store.