Initial Sales of Original iPhone, Droid, and Nexus One Compared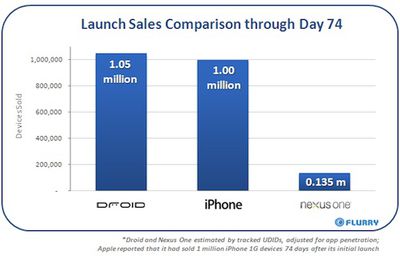 In an interesting
blog post
today, mobile analytics firm Flurry offers estimates of unit sales for Motorola's Droid and Google's Nexus One smartphones over their first 74 days of availability, the amount of time it took for Apple to reach
one million
sales of the original iPhone in 2007.
According to Flurry's data, Google has sold only approximately 135,000 Nexus One units since its launch in January, despite a significant amount of publicity surrounding its launch.
Despite the fact that the Google Nexus One is the most advanced Android handset to date, and enjoyed substantial buzz leading up to its release, the launch has been overshadowed by lower than expected sales. In our previous reports we offered several possible reasons including unconventional choices in marketing, pricing and distribution.
The Motorola Droid, however, experienced relatively significant early sales success with approximately 1.05 million units sold in the first 74 days, slightly ahead of the original iPhone's pace. The original iPhone and the Motorola Droid of course launched under very different circumstances, several of which are highlighted by Flurry, including the growth of the smartphone market in the 2.5 years between the two devices' launch, Verizon's nearly-40% larger subscriber base for the Droid launch than AT&T offered at the original iPhone's launch, and momentum from a holiday season launch for the Droid.
In addition, Apple's iPhone launch at an unsubsidized $499/$599 price point, well above what many casual handset purchasers were willing to pay for their devices, undoubtedly hampered early sales. Just a week before Apple reached its one million milestone for the iPhone, it announced the discontinuation of the original 4 GB model and a $200 price drop for the 8 GB model to $399, setting the stage for increased sales.