Google Launches Nexus One: T-Mobile Plan Available Now, Verizon and Vodafone Coming Soon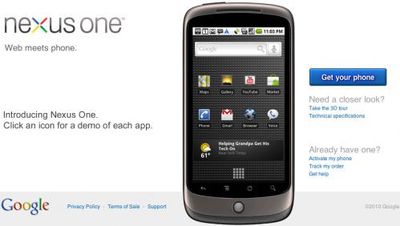 Google today
announced
the launch of its
Nexus One
smartphone, ushering in what the company calls the first of its "superphones" based on the Android operating system. The Nexus One, which offers an 800x480 screen, 5 megapixel camera with flash and is powered by Qualcomm's 1 GHz Snapdragon processor, utilizes the Android 2.1 operating system.
As revealed last week, the Nexus One is priced at $529 as a standalone purchase or $179 with a two-year agreement with T-Mobile. Google also announced that Verizon (U.S.) and Vodafone (Europe) have signed on with the Nexus One and will be offering similar hardware and service plan packages in the spring. Initial orders are limited to the United States, United Kingdom, Singapore, and Hong Kong.
Through the web store found at www.google.com/phone, consumers can buy the Nexus One without service (meaning any GSM network SIM card can be inserted into the device), or purchase the phone with service from one of Google's operator partners. As new phones come to market through this channel, consumers will benefit from the ability to match a phone of their choice with the service plan that best meets their needs. Operator prices and plan details will be featured on the site.
"The Nexus One belongs in the emerging class of devices which we call 'superphones,' with the 1GHz Qualcomm Snapdragon chipset making it as powerful as your laptop computer of three to four years ago. It's our way to raise the bar on what's possible when it comes to creating the best mobile experience for consumers," said Andy Rubin, VP of Engineering. "We look forward to working with handset manufacturers and operators to bring more phones to market through this channel worldwide."
The Nexus One offers 512 MB of Flash and 512 MB of RAM, and ships with a 4 GB Micro SD card with support for cards up to 32 GB. The device also offers voice recognition throughout the operating system and advanced widget and home screen personalization.