U.S. iPad Pre-Orders Set to Begin at 5:30 AM Pacific Time Tomorrow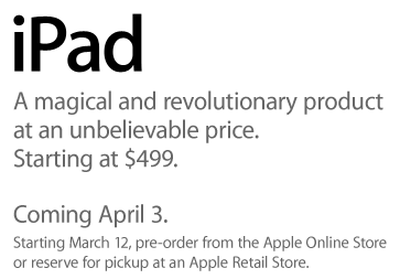 TUAW reports
that U.S. pre-orders for both Wi-Fi and 3G-capable iPads will go live on Apple's site at 5:30 AM Pacific Time / 8:30 AM Eastern Time tomorrow morning. Apple last week
announced
that pre-orders would begin on March 12th, but did not specify a time in that release.
We asked Apple PR to help you plan your day tomorrow, and they responded:
"Customers can pre-order online at apple.com at 5:30am Pacific time on Friday, March 12."
In addition to pre-orders, U.S. customers will also be able to reserve iPads for pickup at their local Apple retail stores once they become available, guaranteeing product availability and speeding the purchasing process.
While U.S. customers can pre-order any of Apple's six iPad models (three Wi-Fi and three Wi-Fi + 3G) beginning tomorrow, only the Wi-Fi models will be available on the launch date of Saturday, April 3rd. Customers purchasing Wi-Fi + 3G iPad models will need to wait until late April to receive their orders.
International orders for both Wi-Fi and Wi-Fi + 3G iPad lines in Australia, Canada, France, Germany, Italy, Japan, Spain, Switzerland and the UK will begin shipping in late April as well, although Apple has yet to announce a date that it will begin accepting pre-orders in those countries.