The Significance of Steam and Valve's Games for Mac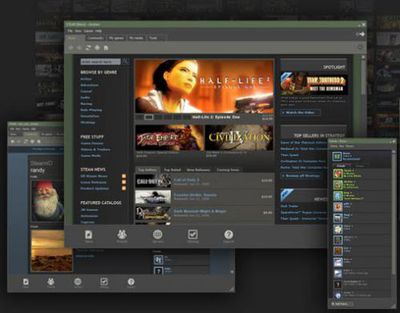 Earlier today,
Valve Software
released
teaser images
which indicated that their
Steam platform
as well as a number of their games would be coming to the Mac.
For those unfamiliar with this currently PC-only software, Steam is a digital distribution system for PC games. Essentially, a PC game App Store. The Steam storefront allows users to purchase from over 1000 titles and download them straight to their computer. Steam also provides digital rights management, auto-updates and community features for the games installed. Besides Valve's own games, major 3rd party developers including EA, Activision, SEGA and many more distribute their games on the system. Steam has been around since 2002, but in the past few years has really gained significant momentum and market share.
Part of Steam's popularity has been on the strength of Valve's own offerings which include Half Life 2, Team Fortress 2, Portal, and Left 4 Dead. Here's an old teaser trailer for their critically acclaimed Portal game:
Based on the teaser images, it seems likely that all of these titles will also make their way to the Mac. This leads us to believe that Valve has ported their
Source game engine
over to the Mac, which would allow any future games based on this engine to be easily launched for the Mac. Alternative, Valve could be using
Transgaming/Cider
for the translation. Coincidentally, Valve has been in the process of
seeding information
believed to be about
Portal 2
over the past few days. In fact, they even
changed the famous ending
to the game, leaving it open to a sequel.
Now, given all this, it does not mean that other non-Valve Steam games will necessarily be coming to the Mac. It would be up to each developer to make that decision. iPhone and PC Steam developer NimbleBit, however, is already considering moving their kart racer Zero Gear to the Mac based solely on these announcements.
"The arrival of Steam on the Mac platform would make porting our PC game Zero Gear to Mac much more feasable and attractive. This could be a chance for many independent iPhone developers to test the waters of desktop game development as well.", writes Ian Marsh of Nimblebit.
It could also open the door up to existing Mac-specific developers to have a new digital distribution system to Mac gamers.