Valve Leaks Teaser Images for Announcement of Steam (and Games) for Mac [Updatedx4]
Last week, Valve Software generated some excitement among gaming fans who noticed Mac OS X menu components and other items in the most recent release of the company's Steam distribution platform for the PC. Combined with reports of Valve recruiting Mac engineers, the evidence suggested that Valve may be planning to make a move into the Mac platform.
MacRumors today received a teaser image from Valve appearing to show Gordon Freeman, protagonist of Valve's Half-Life video game series, with an Apple logo on his chest. The image was accompanied with the following explanation: "In anticipation of an upcoming announcement from Valve."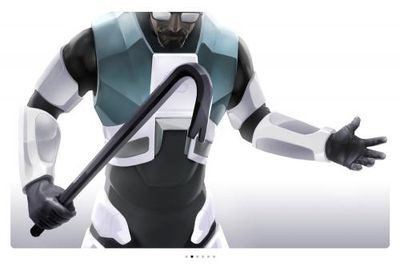 Valve has not offered any additional information on what we can expect from them or when more news might be available beyond "soon".
Update: MacNN received a different teaser image showing robotic characters from other Valve games mimicking Apple's "Get a Mac" ads starring Justin Long and John Hodgman. The report suggests that we may see an announcement at next week's Game Developers Conference in San Francisco. The image here represent turrets from Team Fortress 2 and Portal:

The presence of six dots along the bottom of the images, apparently for navigation reference, suggests that an additional four teaser images may have been sent to other outlets.
Update 2: A third image has surfaced at Shacknews with Team Fortress 2 reference:

And a fourth one has
appeared
at
Eurogamer
, with character from
Left 4 Dead
:

Update 3
: One more image has
been posted
at
Rock, Paper, Shotgun
, revealing that
Steam
is coming to Mac:

Update 4
:
Macworld
posts
what appears to be the sixth and final image, depicting Alyx Vance from
Half-Life 2
in a reenactment of Apple's famous
1984
commercial.