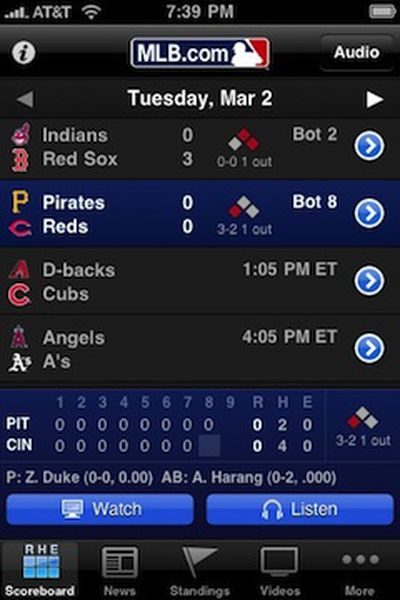 Macworld reports
that
MLB.com At Bat 2010
has arrived in the App Store, offering baseball fans even more coverage of the upcoming season's games. As with last year's version, users can listen live to every regular season and postseason game and also view streaming video of games not blacked out in the user's market. The app also continues to offer the "Gameday" feature with pitch-by-pitch coverage and data from games around the country.
In case that's not enough to send the scent of peanuts and hot dogs wafting gently to your nose, MLB's added some new features to this year's app, including live audio and video of spring training beginning in mid-March, breaking news, a searchable video library, enhanced live game video for the regular season, selection of home or away broadcast feeds during regular season, and even, somehow, background audio playback (how they've accomplished that, I'll be interested to see). What's more, MLB says more features will be rolled out during the 2010 season -- to paraphrase Yogi Berra, it ain't the final version until it's the final version.
MLB.com At Bat 2010 is priced at $14.99 for access throughout the season.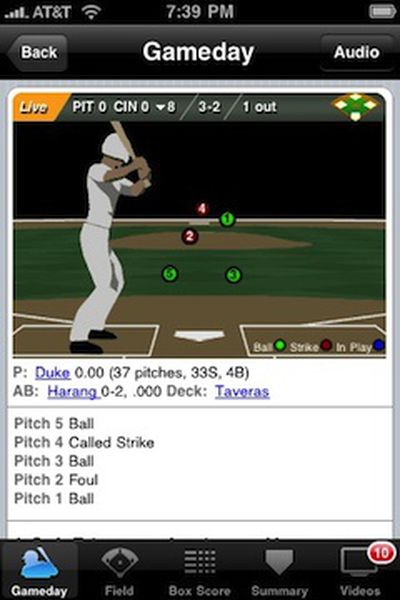 At Apple's
media event
to introduce the iPad in January, representatives of MLB.com demoed a version of
MLB.com At Bat
for the iPad, which will allow for display of even more content with a richer user experience. There is no word yet on release plans for the iPad application.